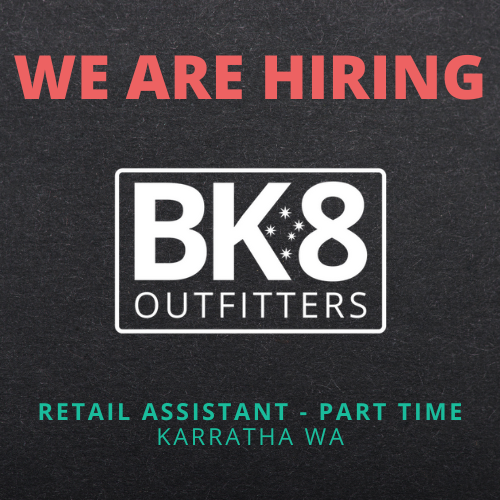 We are Hiring | Retail Assistant | Part Time | Karratha
We tear up tradition and do things the BK8 way, constantly challenging how things have been done in the past. Our success and growth have been incredible and we want you to join us on our journey, making BK8 Outfitters a place where everyone wants to be. 
RETAIL ASSISTANT - PART TIME – KARRATHA WA
You read that right, straight from the horse's mouth we are currently on the search for a self-driven, highly passionate individual to come join our team to make people feel special.
 We have a Part Time position available at BK8 Outfitters in Karratha for you…
This position is for 16 hours a week.
 We are seeking applicants who meet the following:
Passionate about making people feel good through exceptional customer service.
Effective time management skills to perform priority tasks.
Capable of building strong long-term relationships with our customers and affiliates through driving sales and outfitting them with their needs.
A people person who is accountable and adaptable to the businesses changing needs.
A person who has integrity and ownership in all that they do.
Passionate about country fashion and has an eye for styling and merchandising.
Flexible and reliable in working weekdays and weekends.
Flexible in attending local events for the purpose of work.
Has a willingness to learn new things and adapt to an ever changing industry.
Holds a current driver's license.
Some of the things that you will do:
Assist customers with all their outfitter needs.
Create a clean, vibrant, and welcoming space for our customers.
Research products to meet our customer needs (training included).
Meet individual and departmental targets.
Cash handling and reconciliation
Responsible for monitoring performance and identifying opportunities of risk/loss.
Attend and participate in team meetings.
Administration and data entry.
Social media posting and involvement, including creating content and inspiration!
If you're excited about the opportunity to be part of a team that is deeply committed to customer service for all Australians, then apply today!
Apply Now by completing this form
https://www.surveymonkey.com/r/bk8application
Current Store Opening Hours
Mon 9am-2pm
Tues 9am-2pm
Wed 9am-4pm
Thurs 9am-4pm
Fri 9am-4pm
Sat 9am-2pm